Estimated reading time: 11 minute(s)
[Source: FinalCall.com]
Vigils, block parties, and celebrations of his life continued across the world for music artist and global icon Prince, who passed away at age 57 on April 21.
Prince was an incredible musician, culture watchers and analysts told The Final Call. Just look at the outpouring of love by fans touched by his music, they said.
But, they added, Prince is also loved because he was principled. He fought for artists' rights and for justice. He fought for people who could not fight for themselves, not just through his music, but with his clout and his finances.
"I like you will miss Prince. I like you saw the Greatness in his Struggle just to gain ownership of his own name. I saw the Greatness of his Being, the courage that he had to fight for, not only his own image, his own likeness, and his own music masters but to fight for others who were not as blessed with the depth of love and the breadth of courage that he demonstrated," wrote the Honorable Minister Louis Farrakhan of the Nation of Islam in a tribute published in The Final Call. He also highlighted the "beauty" of the "essence" of Prince in his music, his gifts and his service to others. The musician tried to visit the Minister during a serious illness in the 1990s and donated $50,000 to the Million Family March in 2000.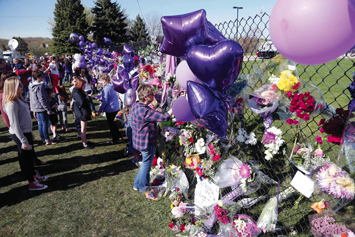 "Though I am saddened over the fact that I will never physically meet him, we will always have him with us through the music that he gave us, the struggle that he made that taught us how we must stand up, fearless against that which is ugly in its injustice, its unrighteousness and its wickedness," said Minister Farrakhan. (See page 2 for the full statement).
"He had a mystique, this whole thing about not being accessible, but from what I understood and from what I've seen, he was a lot more accessible than people realized," said Davey D, a national hip hop journalist and historian.
"Here's a guy that, when you talked to folks, they'd be like, 'Oh yeah! He was showing up at the back of my poetry show in the middle of nowhere, and he'd be sitting there in the back, checking you out," Davey D stated.
He recalled Prince was so impressed with Bay Area DJ Pam the Funktress' work at after parties that he put her on tour with him.
Whether discussing environmental pollution with journalist and author Tavis Smiley, funding songs and videos about Dr. Martin Luther King, Jr., or holding a concert and focusing on the problem of police violence, Prince's fight for justice was as pure as his music, said Davey D, artists and analysts.
"He was one of those folks that gave and was committed, and pushed back fully, all at the same time of being a consummate artist and playing that game very well, meaning that he kept a certain type of mystique about him, a certain type of sex appeal, if you will, and he knew how to play to people's emotions," Davey D said.
Prince's art and intelligence earned many accolades, including seven Grammy Awards and induction into the Rock and Roll Hall of Fame in 2004.
Prince had just returned to Warner Bros. Records after an 18-year feud. He regained ownership of his catalog in an agreement that also meant a new album. During the fight, in which he was unable to use his birth name, the musician created a symbol that was used to represent him and re-named himself, "The Artist Formerly Known as Prince" in 1993. Three years later he would sever ties with Warner Bros.
In a music video and in public performances, the word "slave" was written on his cheek. "People think I'm a crazy fool for writing 'slave' on my face," he said in a 1996 interview with Rolling Stone magazine. "But if I can't do what I want to do, what am I? When you stop a man from dreaming, he becomes a slave. That's where I was. I don't own Prince's music. If you don't own your masters, your master owns you."